Git in Visual Studio
As You probably know Visual Studio has integrated git client. It is really cool thing. Unfortunately there is a big BUT: it does not support git over ssh.
So in 99% cases I use separate console window to push my stuff to remote repository. But not anymore :)
Package manager console to the rescue
The easiest way (in my opinion of course) is to use Package Manager Console is a PowerShell console :) The only difference is that it has separate profile file form standard PowerShell.
PoshGit - git extension for PowerShell
If didn't try this before, you should now. It was described before at:
The effect in PowerShell: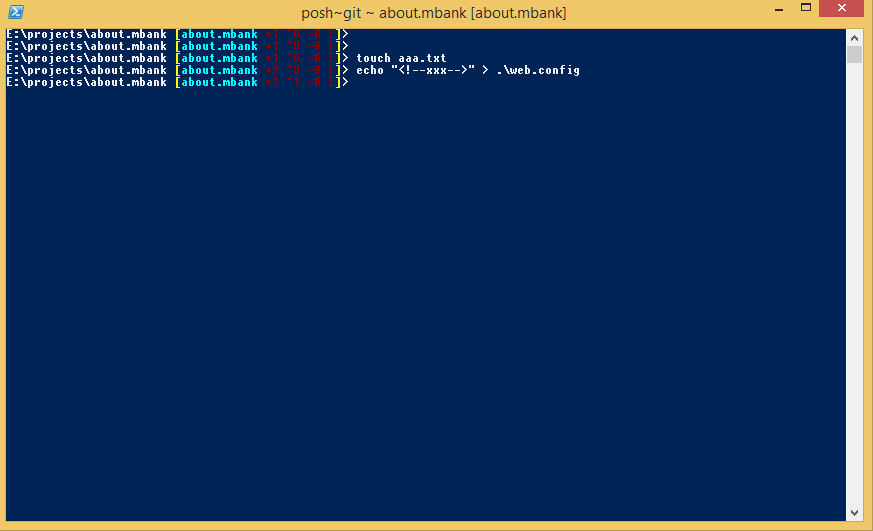 hich gives you all needed information with colors and numbers about your local git repository: how many new files, how many changes, is you repository behind/after origin, etc.
Poshgit inside VisualStudio
If you already install posh-git in "normal" PowerShell the easiest step is add "include" in package manager console profile file. Just run inside package manager console
and add line like below. Iit depends on how you installed poshgit - you can find it in normal powershell profile with typing in in notepad $PROFILE
| | |
| --- | --- |
| 1 | . 'C:UsersXXXXXXDocumentsWindowsPowerShellModulesposh-gitprofile.example.ps1' |
or
| | |
| --- | --- |
| 1 | . 'C:[somewhere]posh-gitprofile.example.ps1' |
Reload profile with . $PROFILE or just restar Visual Studio. Now I am ready to work: