In the first part How to split monolith solution - part 1: common myths I wrote about common myths. In this post I will try to find the "seams" to cut, using the Visual Studio and the ReSharper. Let's go!
Assumptions
Big solution :)
Time :D
Will for change
I will use .NET solution and tools because I know them the best.
Tools
Visual Studio
ReSharper from JetBrains (https://www.jetbrains.com/resharper/) - be careful it is addictive
My solution
Overview:
67 projects
36 projects on root
2 sub-folders with projects
19 projects with tests
In the Visual Studio, it looks like below: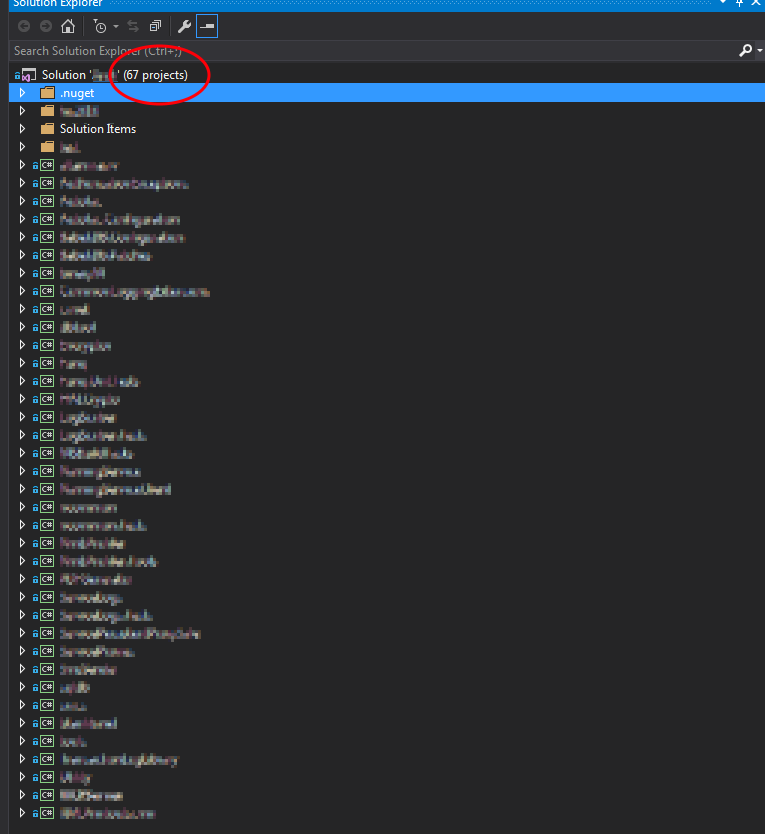 To start working we need to visualize dependencies. And in this part, ReSharper save my day.
| | | |
| --- | --- | --- |
| With ReSharper, you can explore project dependencies in your solution using a visual representation of the solution architecture. At any time, you can open the Architecture View (ReSharper | Architecture | Show Project Dependency Diagram) and explore project dependencies without compiling anything. |
If you know other tools, which can do above, please let me know in comments.
Anyway. After simple click on ReSharper->Architecture->Show Project Dependency Diagram below image showed. (Yellow and green rectangle I added myself using paint):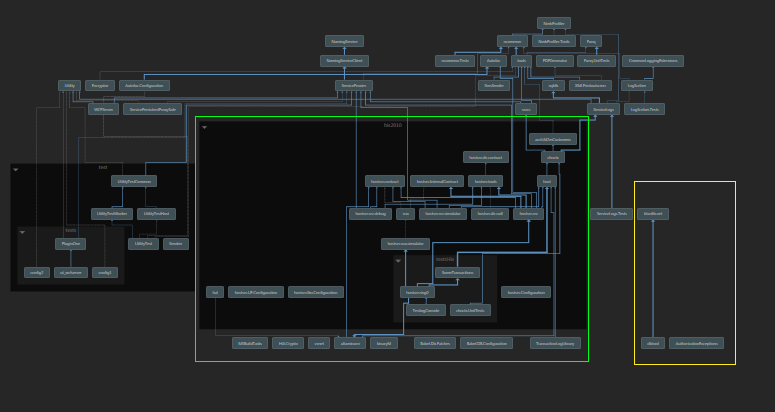 What did I notice?
There are 3 projects ==without a reference to anything else==. It is a yellow group on the bottom-right. There are more groups like this, but on the overview, I don't see them clearly.
My solution folders marked with black background rectangles. The left-hand side is tests.
Green rectangle marks a big separated part. There isn't anything with reference to this part.
The good thing is that I have a folder so I can use collapsed graph in smaller groups. Just click:

.
In my case it looks like following:

After collapse I noticed more:
I have only one arrow down - arrow shows dependency between projects
I have more project without a reference.
I can ease create compilation tiers, there are 7 layers on above picture.
The most interesting point is 2. Why do I have unrelated projects? I see following possibilities:
IoC;
tools without direct dependency like MSBuild tasks, file converter, UI test stuff, DB helpers, etc.;
more complex infrastructure - above solution is not the only one in the project;
something more? If yes please let me know :)
As you think about first 2 groups we can easily move out. In my case, it is 9 projects from 67. It is ~13% of all projects in the solution. If I exclude tests projects it is ~18%. So I just make my solution a bit smaller.
Sum up
After quite simple above steps I noticed that:
I have parts that can be easily separated
Most my references are one-way. From bottom to up. I can easily create compilation tiers.
Folders in big solution are good in the overview.
What's coming next?
What is a compilation tier, because I didn't explain it at all and guys in comments ask for it :) - it is already available: How to split monolith solution - part 3 - compilation tiers
Dependency management, for compilation tiers.
Split or remove circular dependencies in grouped projects